Criminologia
Estado Penal: Theoretical Criminology e Wacquant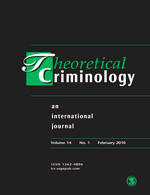 Recentemente lançado o número 01 do volume 14 da Theoretical Criminology, fevereiro de 2010. O número é temático sobre a tese de Wacquant acerca do Estado Penal no horizonte do neoliberalismo.
O volume é composto integralmente por análises e críticas da perspectiva do criminólogo de Berkeley.
Sumário:
Benjamin Goold, Ian Loader and Angelica Thumala, Consuming security?: Tools for a sociology of security consumption
Graham Ellison and Mary O'Rawe, Security governance in transition: The compartmentalizing, crowding out and corralling of policing and security in Northern Ireland
John L. Campbell, Neoliberalism?s penal and debtor states: A rejoinder to Loïc Wacquant
Bernard E. Harcourt, Neoliberal penality: A brief genealogy
Margit Mayer, Punishing the Poor - a debate: Some questions on Wacquant?s theorizing the neoliberal state
Jamie Peck, Zombie neoliberalism and the ambidextrous state
Frances Fox Piven, A response to Wacquant
Mariana Valverde, Comment on Loïc Wacquant?s ?Theoretical Coda? to Punishing the Poor
loading...
-
Os Ecos De Berkeley
Sobre Berkeley não escreverei. Embora a região da Haigtht St. em San Francisco seja considerada "oficialmente" o espaço hippie da Califórnia - o bairro é bem legal apesar da inevitável comercialização do estilo podicrê -,...
-
(in)segurança E Medo Do Crime
Publicado na última Panóptica (vol. 19, 2010) interessante artigo do Wacquant intitulado Insegurança Social e o Surgimento da Preocupação com a Segurança....
-
European Journal Of Criminology
Publicado o vol. 07, número 03, do European Journal of Criminology, periódico oficial da European Society of Criminology. Neste exemplar: Estella Baker, Governing Through Crime - the case of the European Union Ronald van Steden and Mahesh K. Nalla,...
-
Theoretical Criminology E Punishment & Society
A Revista Theoretical Criminology (http://tcr.sagepub.com/) é das mais conceituadas publicações internacionais no campo criminológico. Propõe debate interdisciplinar sobre aspectos teóricos do conhecimento criminológico. Encontra-se na 12ª posição...
-
Livro - Wacquant
Loic Wacquant, Os Condenados da Cidade. O livro leva o leitor a áreas específicas de dois países avançados: uma é o gueto negro americano e outra a periferia urbana francesa, mostrando que a marginalidade urbana não é igual em todas as localidades,...
Criminologia